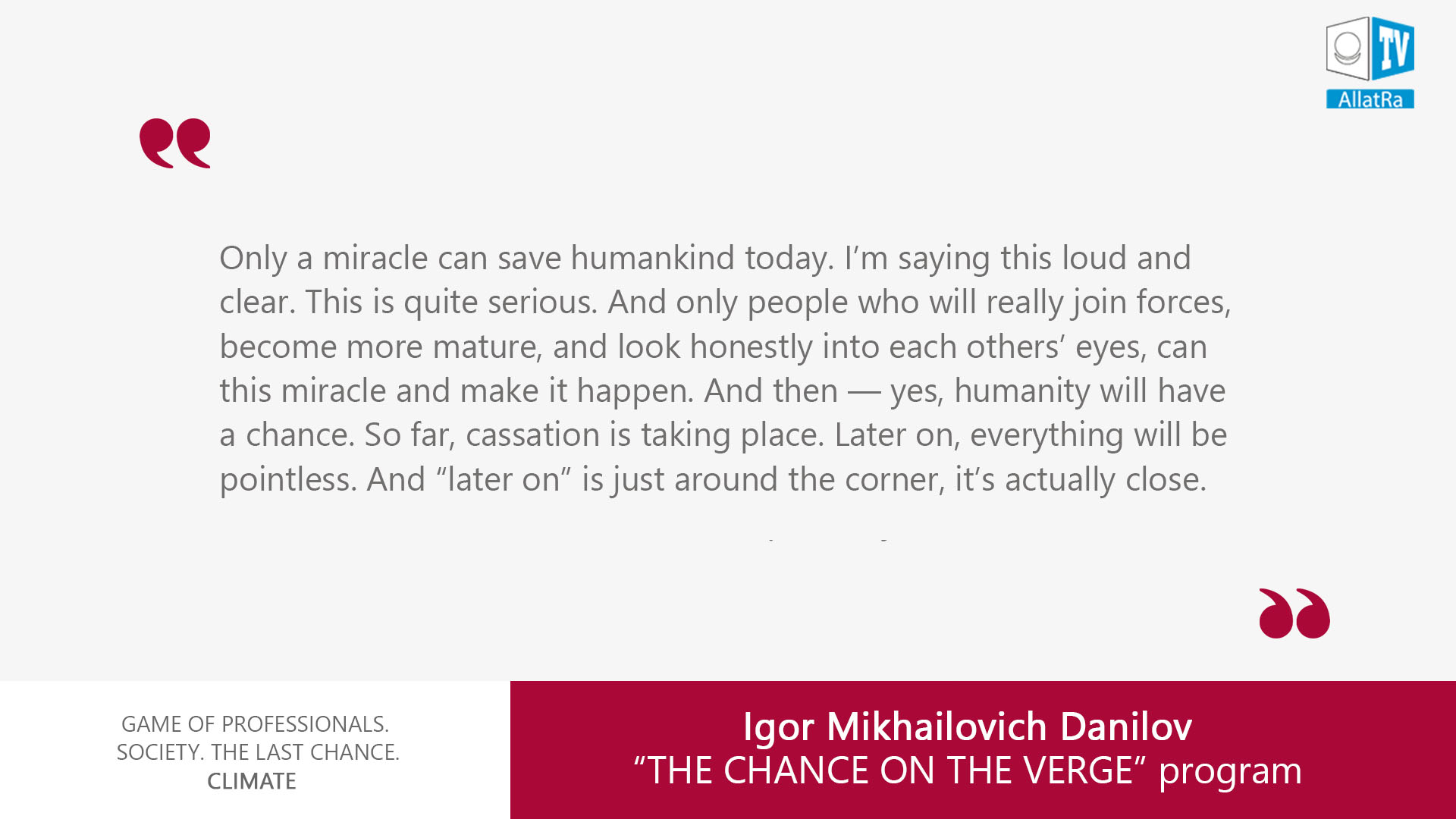 The climate is changing rapidly - is there a chance for the future of Humankind?

The illusion of taking care of people. How the elite is playing with human lives. What is hidden behind the screen of the anthropogenic factor?

Scientists about the true causes of climate change.

What is the modern Science of Consumer Society serving - the entire humanity or for the benefit of individuals?

Witnesses to natural disasters about what's happening on our planet.

Billions of climate refugees tomorrow. What is the destiny of migrants today?

A creative society is the only chance to survive.
The participants voiced their opinions on the most pressing problems and topics at the international conference "SOCIETY. THE LAST CHANCE. CLIMATE", which was held on the platform of ALLATRA IPM on 28 September 2019 in Naples, Italy. The open format of the conference gave the opportunity to connect online and to take part in the conference for people from all over the world.
For the first time, the world community openly discussed the problem that in the consumer society, despite being such a vital topic as global climate change, there are people who are trying to benefit from it... First of all, those to whom society has delegated responsibility:
"Behind closed doors, everything is decided for us. We've given up the right to choose, and now we're looking for people to blame for what's going on on on the planet. But each of us is responsible for the change of society for the better."
(Alla Moskalenko, member of the ALLATRA IPM, Naples, Italy)
"CO2 emissions trading is, in fact, a business project that does not produce anything, but sells air. It's like selling indulgences in the Middle Ages, when you had to buy a quota in order to commit a sin."
(Volodymyr Melnyk, a financial analyst at an international company, Master of Public Finance, Kyiv, Ukraine)
"Airfare rises, we're not allowed to breed cattle, to drive cars. Even horses cannot be used because they emit too much greenhouse gas. When we look at all the actions related to climate change, it seems like they just want to limit our opportunities." 
(Ivan Bezvershenko, independent analyst, Kyiv, Ukraine)
"The elite has no brakes in making money on us. Soon the air tax will be brought in!" 
(Alina Fedorova, owner of a medical services company in Dubai, UAE)
"We understand that the anthropogenic factor is also used in business interests. Do we actually need to be slaves to the moneymakers? And what can we do to change everything? We do not need a war or revolution to do that. All you need to do is come to the conference on May 9, 2020, vote and express your opinion. There are billions of us, and there are just a few of them."
(Igor Naumets, candidate of economic sciences, honored builder of Ukraine)
In the process of discussion, it became clear that the topic of climate change was being used as a tool for profit, manipulation, and division of people in a consumer society. But all this deceit exists with the silent consent of the society itself. The scientists who participated in the conference highlighted the real causes of global climate change. The problem of the destruction of the modern format of science was revealed:
"Today we live in a time when the phases of two cycles change: 12,000 years and 100,000 years. Understanding this, as well as analyzing many of the factors that influence the Earth's climate, It is simply ridiculous to talk about the anthropogenic factor only!" 
(Olga Malakhova, geologist, hydrogeologist. Gomel, Belarus)
"Science is at a deadlock. And this dead-end is precisely the result of the materialistic way of thinking and the consumer format. Today, ethics is not the first priority in the scientific environment, it is the last priority. And this is at the same time when the future of the entire humanity depends on where the scientific potential will be directed." 
(Elizaveta Khromova, geologist-geophysicist, Moscow, Russia)
The antinomy of our society is that even climate change migration is considered only as a threat to the security of other countries and not as a life-saving issue.
"What kind of society is this, where we do not have enough money to resolve the problem of hunger, to build, to create, to establish friendships with each other? But we have the finances to kill and guard against each other. Is that what we want? And where will this bring us? Only to self-destruction. So let's change it." 
(Olga Schmidt, MRI Technician, Troy, USA)
"There is no climate refugee status in international law. At a time when governments prohibit the admission of migrants, ordinary people make their choices every day. They help them sincerely when they meet with people in need." 
(Svetlana Folla, neurologist, Lugano, Switzerland)
"Peaceful coexistence is a state of society in which people of all religious, cultural, ethnic and linguistic groups are assimilated and have respect for this diversity. Without this condition, we cannot speak of a community that accepts migrants. But we can help these people to integrate into society and become one." 
(Abderrahim Anbi. Doctor of Philosophy, Associate Professor, Department of Sociology, University of Ibn Zohr Agadir, Agadir, Morocco)
"We can't rely on guesses, hoping that next time everything will be okay. So far, many cataclysms have bypassed us as if we were protected by God, and scientists have even noticed that. Despite such a strong and unusually long earthquake that we had recently, there were almost no casualties or serious injuries. What are the conclusions, did we learn anything from this? After all, every life is priceless, and we must do our best not to become a victim of our negligence and selfishness tomorrow."
(Ekaterina Cherkasova, an eyewitness to the 7.2 magnitude earthquake in California. Los Angeles. USA)
"...It was very different from how we lived in our daily lives - we all came together and it helped to save lives and people were given help. I remember that for the first time in many years we looked into the eyes of our neighbors."
(Luca De Santo, eyewitness to the 7.1 earthquake in Naples, Italy)
The question of how to prepare society for the coming climate change cut across the entire conference. People realize how important it is to consolidate and take constructive actions now:
"Our civilization has built a consumer society that is characterized by never-ending emergencies. Governments are not ready to deal with them. We need unification and to unite the peoples of different countries. The role of each person is significant. It is necessary to educate people of different specialties and to have evacuation plans, the centers of which should not be located in one place."
(Khalid Zayed, Director of the Al-Khulafa Al-Rashidin Specialized Clinic, Cairo, Egypt)
"What does the world know about climate change today? All people can find themselves in the same geographical area at the same time. That is why it is important for sociologists to be involved in raising a person for peace, and it is very important that we create a society where people are fully supported and where they can help each other."
(Abderrahim Anbi. Doctor of Philosophy, Associate Professor, Department of Sociology, University of Ibn Zohr Agadir, Agadir, Morocco)
"At the beginning of 2018 there were more than 22 million IT-developers in the world, and by now this number is certainly much more... If all these specialists spent some part of their free time on good deeds for people, we would easily create a platform that can really save a huge number of lives. Including the lives of these specialists."
(Evgeny Kovalev, IT specialist, Tiraspol, Moldova)
"For us, people, the way out is shown in the report "On the Problems and Consequences of Global Climate Change on Earth. Effective Ways to Solve These Problems". On the basis of the ALLATRA International Public Movement was created a universal international television ALLATRA TV, where scientists can post their articles and videos ... Any scientist can join this initiative voluntarily and present his research to people. This is an example of an association."
(Alexandra Ignatieva, Meteorologist, Moscow, Russia)
"We need to find solutions together. And one of them is the conferences where people from all over the world get involved to find a real way out and interact. This should be a global trend for people."
(Giuseppe Mastrolorenzo, Volcanologist, Doctor of Science, Leading Associate at the National Institute of Geophysics and Volcanology of Italy and the National Observatory of Vesuvius, Naples, Italy)
"We still have time, which is important to use rationally. Considering that disasters are growing rapidly, there is a pressing question: How can we, as a society, prepare for this? Will we be each other's enemies and fight for survival as animals, or will human life be valued? We can create an altruistic society where people are friends and not enemies!"
(Antonina Budanova, coordinator of refugee volunteers. Berlin, Germany)
International Conference "SOCIETY. THE LAST CHANCE. CLIMATE" was a follow-up to a number of international initiatives intended to discuss and to implement the constructive model of society, that was described in the last pages of the AllatRa book. Everyone who cares can engage from anywhere in the world online in this creative process.
People around the globe share their opinions about the creative society and their ideas about what each of us can do to achieve it.